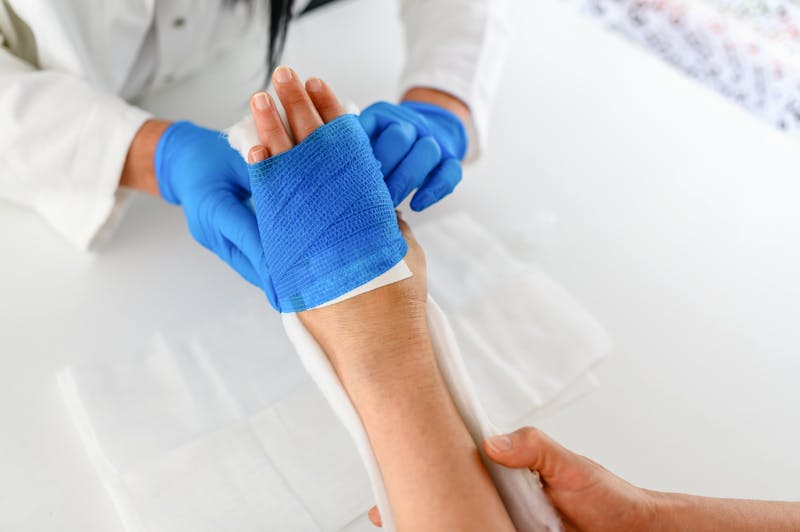 Slow-healing wounds cause pain and can lead to severe complications, including bone infections and, in some cases, amputation. Severe injuries and wounds that develop an infection need professional wound care to heal correctly, such as wound care dressings.
Knowing different types of wound care dressings can dramatically increase the wound-healing process and prevent infection. The best dressing promotes an environment that is neither wet nor dry so the wound bed can move through the healing cycle to recover quickly without becoming infected.
We know a thing or two about wound care dressings at Wound Evolution. Here are the types of wound dressing that best promote healing.
Gauze
These dressings are made of 100% woven cotton fabric in various sizes and shapes. Gauze sponges absorb drainage, such as blood or other fluids, making them a good, all-purpose wound dressing. This type of wound dressing is perfect for wounds on limbs or the head and wounds that are difficult to dress.
Gauze wound dressing is best for:
Wounds that require wrapping or extra packing
Injuries that require frequent dressing changes
Injuries that are draining or will have excess discharge
Foam
Foam dressings are made of polyurethane foam, which will keep moisture in the wound area while protecting it from harmful bacteria. Its design ensures that it will not stick to the wound area while promoting faster healing.
We may use foam wound dressing for the following:
Transparent Film
This type of wound care dressing is composed of thin polymer membranes with several thickness variations and has an adhesive on one side of the film dressing. These film dressings allow your doctor to actively see and monitor the wound without exposing it to the elements and protect against liquid, water, and bacteria. Patients that have received transparent film wound dressings say that the thin and flexible material is comfortable on the wound and can aid in mobility.
Transparent film wound dressings are used for:
IV sites
Lacerations
Abrasions
Second-degree burns
Surgical incision sites
Hydrogel
A hydrogel wound dressing intentionally adds moisture to an injury to increase the healing rate. Some hydrogel wound dressings include an additional cooling gel that adds comfort as the wounds heal.
At Wound Evolution, we would use hydrogel wound dressing for:
Excessively dry wound areas
Wounds with dead tissue
Painful or necrotic wounds
How we choose the best wound care dressing for you
When selecting from the different types of wound care dressings, we assess the wound and ask the following questions:
What type of wound is it?
What does the surrounding tissue look like?
What do the edges of the wound look like?
How much drainage is there?
Which stage of the healing process is the wound in?
Which wound dressing will promote the most rejuvenation?
Does the wound dressing allow the wound to stay covered for extended periods? This is important because studies show that the infection rate increases when wounds are dressed twice daily.
Wound care treatment with Wound Evolution
Chronic wounds require intensive treatment that begins with a thorough assessment by one of our highly-trained providers. This includes:
Reviewing your medical history
Performing a physical exam
Carefully evaluating the size and depth of your wound
Performing diagnostic testing to identify your wound's underlying cause
Looking for potential complications such as bone infections
Wound Evolution - Wound Care and Hyperbaric Medicine use advanced therapies to stabilize your wound and promote healing, including innovative types of wound care dressings. Our providers can choose one of many possible specialized dressings and offer a wide range of essential wound care therapies, which we may combine to help heal the wound, stop additional damage, and treat any infections present.
Working with a professional can help ensure your wound is healing correctly and does not spread or affect other areas of the body. Call Wound Evolution - Wound Care and Hyperbaric Medicine or book an appointment online if you need wound care.