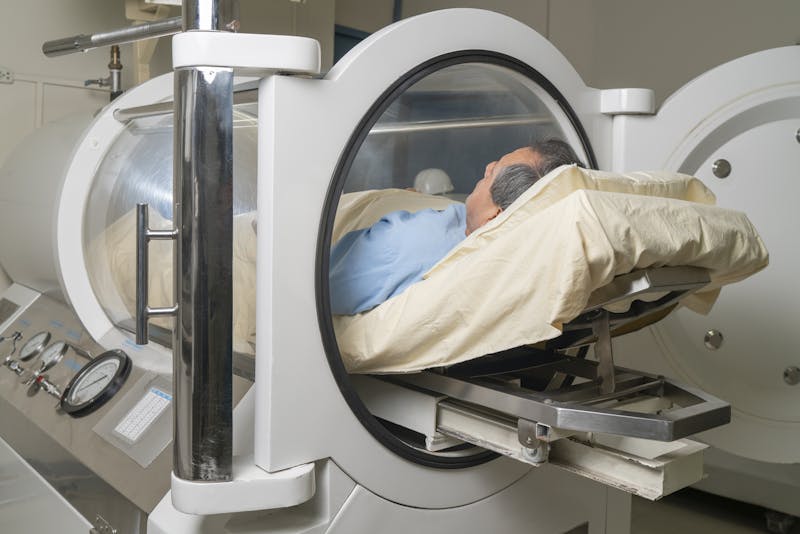 Hyperbaric oxygen therapy, commonly known as HOT, is a procedure that delivers pure medical oxygen via respiration at higher atmospheric pressures than normally exists at sea level. As a result, more usable oxygen is delivered to the body to initiate wound healing at a faster rate than just allowing the body to try to heal with the available oxygen in the air.
Ozone therapy is a wound healing treatment. Although it uses a form of medical-grade oxygen, it is applied to cause reactions to improve immune response and to potentially disrupt unhealthy processes in the body. Unlike HOT, ozone therapy is not a direct oxygen delivery system.
Ozone therapy
Ozone has been used as a disinfectant for over a century and is known to interrupt unhealthy conditions, including halting the growth of bacteria, viruses, fungi, yeast, and protozoa. However, ozone therapy is still being researched and has shown mixed outcomes and may need to be more refined to produce a trusted outcome. Ozone therapy is not widely used, partly due to the ozone gas having an odd number of atoms, making it unstable, and the lack of prediction regarding results. Although some applications show promise, at this time, the FDA has not approved ozone therapy for the treatment of disease.
The role of oxygen in wound healing
The best way to understand the differences between HOT and ozone therapy for wound healing is to focus on the role of oxygen in healing. It is a vital component of all healing because it is intricately involved in the biological processes required to restore tissue function and integrity. Simply put, delivering oxygen to the wound, especially slow healing wounds, triggers the body's power to self-heal the wound and the tissue trauma around the wound.
Hyperbaric oxygen therapy
HOT is a widely practiced procedure that is considered safe and predictable. It has been well studied and is often the most effective solution to treat non-healing surgical wounds. HOT can be used on a wide variety of wounds. As it is such an effective healing stimulant, it can be used in conjunction with many other therapies. There are many conditions it can address:
Non-healing diabetic wounds
Venous and arterial ulcers
Diabetic wounds and ulcers
Burns
Gangrene
Skin grafts at risk of necrosis
Summary
HOT technology is squarely aimed at wound treatment and has been tested for many years with excellent results. Because it is so widely recognized as being effective, its application has been refined to deliver optimal outcomes. By oxygenating the blood directly, HOT causes oxygen to permeate areas where circulation is limited due to shock or infection, promoting the proper stages of healing. It is often the case that HOT reduces the need for more invasive treatments, such as repair surgery or debridement. Most patients will require multiple treatments as the wound heals safely and naturally. At Wound Evolution, we offer hyperbaric oxygen therapy for wound healing in a private wound care center built to provide the highest level of patient comfort and care.